I am addicted
again
.. .. This time its
Piya Bavari Again
by Ajay Pohankar. It's quite the same type of music as
Time Traveler
, but it's different.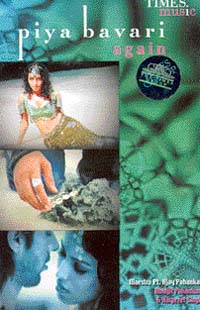 It's same in the sense that is that same fusionistic sound. Lot of
synth
, a little
trance
and quite a bit
lounge
, mixed with classical
Bandishes
and
Thumris
. Makes one amazing combination. Not too classical for those who can't take it, but classical enough to give it that earthly feel. You have to listen it to really get what I am saying, and unfortunately I can't help much with that. But
here
is one place you can find the tracks albeit at really crappy quality (only like 20kbps..).
My personal favorite is
Payalian Jhankar
in raag Puriya Dhanashree. It has some really nice
Pakhwaj
sounds.
An interesting thing about the artists..
Ajay Pohankar
is the main singer and Abhijeet Pohankar (his son) does the music and all the packaging. That makes an interesting team, a classically trained father and a son who's into contemporary music. Been seeing that a lot these days, and that's good!
This same team had produced a couple of albums before this. I had one of their not-so-famous album.. mostly instrumental (as opposed to this one). But never heard the other
albums
. Now I will have to. Maybe I can get my hands on all the CDs when I go to India! They don't sell them in Singapore.. :(